A snap of the workmen's huts in Winter time during the Lewis Pass construction work of the 1930's. Although this does look like a painting, it IS a photograph.
My Great Uncle James [Jim] Kennedy 1915-2003 worked on the road.
"Jim used to talk about the guys stretching a toilet roll across the road the day before the official opening and them running through the 'ribbon' to open 'their' road." - relative
Note the dog by the bridge.
The Lewis Pass, at the Southern end of the Spenser Mountains, leads from the Lewis River (a Waiau tributary) into the Maruia River (which flows into the Buller). The 863-m saddle was used by Māori, and crossed by Henry Lewis in the early 1860s. It was not an important route to the West Coast goldfields, but after the road (now State Highway 7) was built during the 1930s economic depression, it became the main route from Canterbury to Westport and Nelson[1]

Before receiving the box of items, I had fortuitously purchased on an auction site, tickets for the luncheon held 30 October 1937 in celebration of the opening of the Lewis Pass road.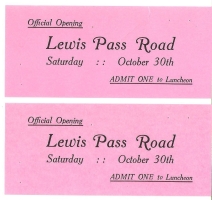 Source:
[1]
John Wilson. 'Canterbury places - Hanmer and Lewis Pass', Te Ara - the Encyclopedia of New Zealand, updated 13-Jul-12
URL: http://www.TeAra.govt.nz/en/canterbury-places/page-3