"Knitting for the soldiers in Kensington Gardens"
Even in the early stages of the First World War the need for women to feel as if they were playing their part in the war effort and supporting their men [or other's men] was foremost in the mind of so many women.
My latest acquisition is this tiny photograph measuring 3.5 x 5.5 cm [enlarged here] dated 22 August 1914. It captures a moment in time where three young women, nattily dressed to the nines - as was expected back in the day, are 'doing their bit'. It seems that another couple of women in the background are also enjoying their day in the Kensington gardens in London.
The war was a new born horror when this photograph was snapped - less than a month old, inevitably impacting peoples lives from 28 July 1914. The ladies could not know yet about the terror's that their men would soon be going through when away fighting to protect 'Blighty' infact even the majority of soldiers would have not had an inkling at that stage - away training at various locations.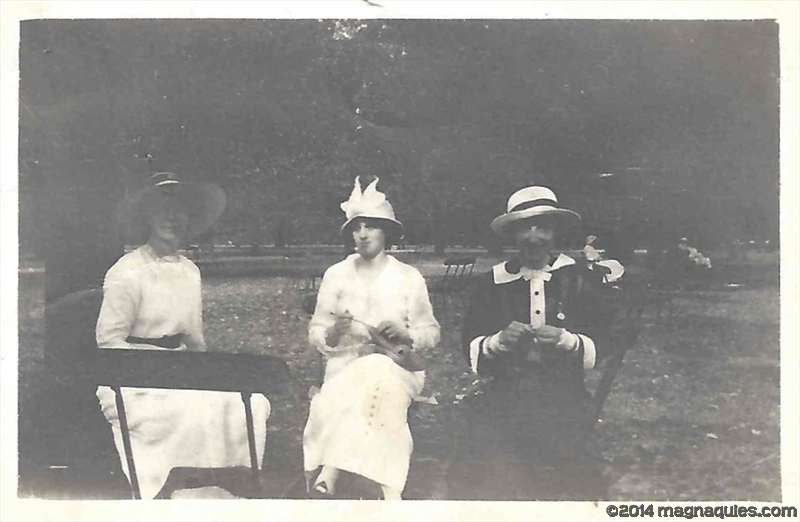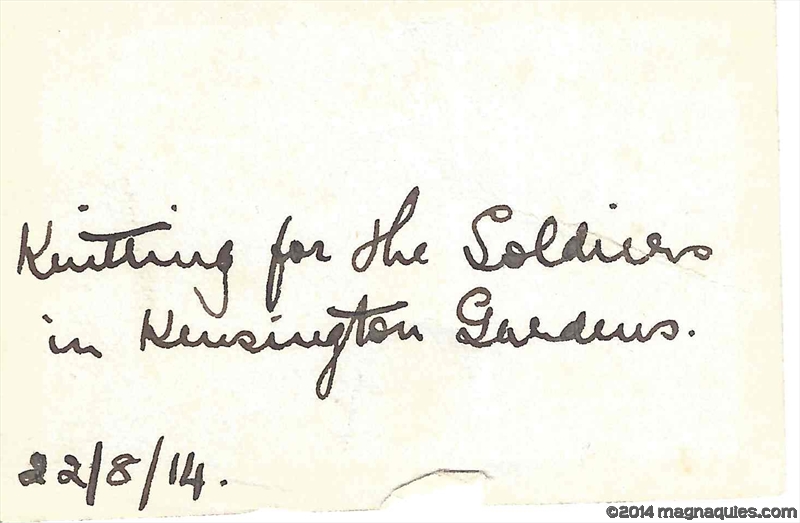 Socks, scarves, balaclavas and jumpers were all part of the war effort, however the quality of the goods seemed to vary as is noted in this excerpt from a website
"The mobilization of Devon's women into charitable efforts was significant because their engagement with charitable efforts provided a distinct 'recognition of citizenship emerging from their patriotism'. This was evident with the activity of knitting when during the first weeks of the war the women of Devon had made and donated to Lady Fortescue 5,000 pairs of socks and 1,500 body belts. However, according to Lord Fortescue, despite the fact that the majority of the socks were badly made they were used to 'put over the breech action of the rifles as [a] mud guard." [1]
Here in New Zealand the effort was taken just as seriously.
New Zealand soldiers living in the misery of trenches in Belgium in 1917 could be certain of a few comforts from home. Hand-made socks, balaclavas, scarves and gloves were included in the parcels women sent them. New Zealand women had always knitted, but the craft took on a new meaning during the war. 'Sock day' was held in May 1915 after soldiers reported that a pair of socks only lasted a fortnight when the wearer was on active duty.
Her Excellency's knitting book appeared in August 1915. This 193-page book, produced by Lady Liverpool, was New Zealand's first locally published knitting book. It contained patterns for socks, balaclavas and gloves and was designed to fit snugly into a woman's knitting bag. There was even a rousing song, Canadian in origin but popular in New Zealand:
Knitting, knitting, knitting, with a pray'r in every row,
That the ones they hold in their hearts so dear
May be guarded as they go. [2]
Some fabulous war effort knitting photographs on Pinterest
SOURCES:
[1]
accessed 27 June 2014
http://blogs.exeter.ac.uk/humanities/2014/01/22/remembering-the-home-front-of-the-first-world-war/
[2]
accessed 27 June 2014
'Knitting for Empire', URL: http://www.nzhistory.net.nz/media/photo/knitting-for-empire, (Ministry for Culture and Heritage), updated 15-Jul-2013
http://www.nzhistory.net.nz/media/photo/knitting-for-empire
Copyright 2014 © MagnaQuies.com All Rights Reserved
This site is under construction. For contact details see www.sarndra.com