Sapper Robert Hislop is recognised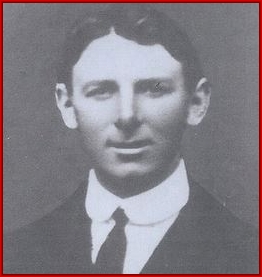 Sometimes there are defining moments in your life and this is one of them for me.
Everyone who knows me is aware of my love of cemetery photography as a hobby. This grew from my obsession of researching my own genealogy since the age of 14. Over the last few years, this has taken on a life of its own, I guess because I have more spare time now to pursue it.
Anzac day this year [2014], I did what I normally do - I went to photograph headstones that have a military connection but seem to get lost among the ubiquitous stones in a cemetery. Those military graves/memorials that don't stand out obviously like the ones you see in many of the RSA sections of cemeteries. This year I focused on Waikumete - a wonderful treasure trove. I'd taken many snaps - I often take anywhere from 150 - 700 images in one outing - at least 2 of each grave.
I'd been at the cemetery a couple of hours methodically going through a particular block when I ended up in front of Robert's headstone. I couldn't really read much of the stone even after getting up close and personal and peering at it a short distance with almost my nose touching it! I commenced walking past slowly when the military emblem engraved on the lower section caught my eye due to the sun bouncing off the stone, thus I KNEW it had a military connection.
I took several snaps from different angles so that when I returned home I would have the chance of transcribing the headstone...even a military number or surname could help - along with the online cemetery database. Often details are sharper in a photo than the human eye can pick up in reality. This proved to be true.
A few days after my visit I decided to attempt to transcribe the headstone. The photos I took came up trumps giving me enough faint detail to deduce and confirm by the cemetery database who was interred in this plot - Sapper Robert Arthur HISLOP of the Railways Battalion New Zealand Engineers. I found a report on Robert's accident and death, so this started the ball rolling and a flow on to other information also:
Auckland Star, Volume XLV, Issue 198, 20 August 1914, Page 7
"MILITARY FUNERAL.
FOR SOLDIER KILLED.
The first casualty in the "war"' as far as New Zealand soldiers are concerned, occurred last night, when Sapper Robert Hislop. of the 13th Regiment, died in the Auckland Hospital as a result of injuries received through falling off the Parnell Bridge on Thursday night, on which occasion he sustained a broken thigh and other injuries.

Deceased will be given a military funeral to-morrow, when the body will be conveyed from the Morgue, at 12.30, to the Auckland Station, from where it will be taken to Waikumete Cemetery. The Railway Engineers, as well as members of the Expeditionary Force, will be represented.

Deceased was 21 years of age, and a native of Christchurch, and has only been in Auckland six weeks. On the night of the accident he was stationed on Parnell Bridge, and by some means fell to the road below. An inquest was held on the body this afternoon, and was proceeding as the "Star" went to press."

[1]


This to me indicated how important Robert appeared to be considered at the time of his death. Statements such as "The first casualty in the war as far as New Zealand soldiers are concerned". Over several nights I teased more out about his life, enough to complete a short biography to upload to flickr.com which I usually do with my completed headstone/memorial img/. Of course I was immensely excited when I realised what I had stumbled upon, so I emailed an acquaintance at the Ministry of Culture and Heritage on 3 May. I often forward my photographs to them which are added to various Governmental online databases - they may be able to help me in this case. My email enquired
"Just enquiring about this fellows grave.

He falls into the category of a true war grave yet his grave looks quite unattended to. Do you know if the MCH cover refurbishment of these 'outside the norm' true war graves if they need maintenance or is that going too far and it's just the military styled stones/plaques? I couldn't find the answer on either MCH or CWGC sites. His concrete is in a sad state and you can hardly read the wording nor the Railroad battalion emblem on the plinth."
My acquaintance emailed back to advise that they had passed on my query to the correct contact within MCH and I duly received a reply on 7th May:

"Margaret discussed this with one of our military historians and it is their opinion that Robert Hislop cannot be added to the CWGC records and be counted as a 'true" war grave, according to the criteria "a serving member of the forces", because there is no service record for him i.e. he wasn't on the army's books. He hadn't had a medical, and signed on the dotted line to join up, so to speak. He was actually on his WAY to enlist when he died, but hadn't got there. A case could be made for him being NZ's first war death, however (currently this is is Ludolph Wynn West on 25 August, though he was actually enlisted).Thanks for bringing this interesting case to our attention."
Well that rather threw me as he had the title Sapper and was on military duty. By this time I'd sourced the photograph of his funeral online and the size of it appeared to give credence to the importance of his death. I began to consider what I could do to get Robert rightfully recognised, then Sue Atkins emailed me on July 16. Sue is Robert Hislop's great niece and she had just begun researching her family tree - her web search brought up my photo of Robert's grave on flickr.com. I was overjoyed. All my efforts had helped someone connect with their lost family member. I responded by telling her our soldiers stories are very important to me. Many of these stories die with the individuals but sometimes forgotten ones can be brought back to life! Robert's was one of them and I gave her a link to a recent blogpost I'd completed on exactly why I do this - http://www.magnaquies.com/anzac2014.html. We exchanged a couple of lovely emails.

Imagine my surprise when on 28 July I was browsing the New Zealand Herald website and came across an article on Robert's grave! I promptly emailed reporter Andrew Stone who had penned the article and this led to me introducing him to Sue with another article coming out of that. As things progressed and the New Zealand Defence Force became involved we were more optimistic the ending was going to be a positive one! On the 4th August yet further article appeared in the NZ Herald confirming things were hotting up!
Then today dawned with the wonderful news that Robert is to be formally recognised as the first New Zealand casualty of World War 1. This really still has to sink in. I've had a hand in changing New Zealand history and that is a truly humbling thing. I wanted to get this man's story out there - and this has gone way beyond that. I will be at the ceremony next Tuesday 19th August - the 100th anniversary of his death, to be part of the day his new status is officially recognised.
I write this blogpost on the 100th anniversary of Sapper Hislop's accident on the Parnell Bridge that led to his death 6 days later on the 19th August 1914. I am so pleased to have taken the time to find out his story. Lest we forget.
Below is the official media release [in part as there are 5 others being added to official records] regarding Robert from the New Zealand Defence Force website dated 13 August 2014.
The decision has been forwarded to the Ministry for Culture and Heritage for inclusion on the National War Memorial Roll of Honour and to notify the Commonwealth War Graves Commission.

Sarah Ingram, Heritage Services Branch Manager for the Ministry for Culture and Heritage, says the Ministry will take over the care of the graves in perpetuity.

The Ministry, as agent for the Commonwealth War Graves Commission, will assess the state of the graves and make arrangements for their refurbishment where necessary.

"We have already made arrangements for Sapper Robert Arthur Hislop's grave to be refurbished in time for the centenary of his death," Ms Ingram says.

The NZDF and the Ministry for Culture and Heritage have arranged to conduct a small service with Sapper Hislop's family on 19 August at Waikumete cemetery to mark the centenary of his death. Sapper Hislop will now be recognised as the first New Zealand casualty during the First World War.

Sapper Robert Arthur Hislop,[no known service number]




Summary of Service: At the time of the outbreak of the First World War elements of the New Zealand Territorial Force were mobilised to man the coastal defences at the four main centres and to guard a range of other key points. In Wellington, for example the harbour defences were manned and a detachment from the Post and Telegraph Corps' North Island Battalion was detailed to guard the point where the international telegraph cable came ashore.




Circumstances of Death: On the evening of 13 August 1914 a picket consisting of a corporal and two sappers from the North Island Railway Battalion was tasked with guarding the Parnell railway bridge. The corporal in command of the picket was speaking to the other member of the picket when Sapper Robert Arthur Hislop, who had moved to Auckland only six weeks earlier, fell between the sleepers of the bridge onto the roadway below. Hislop suffered serious injuries from which he died in Auckland District Hospital on 19 August. He received a military funeral attended by both officers and men from the Territorial Force and the NZEF.




Conclusion: Sapper Robert Arthur Hislop's death was clearly related to his military service during the First World War. Territorial's killed under similar circumstances during the Second World War are included on the National War Memorial Second World War roll of honour. Robert Hislop should, therefore, be added to the appropriate First World War rolls of honour. If Sapper Hislop is added to the appropriate First World War rolls of honour he will be officially acknowledged as the first member of the New Zealand Armed Forces to die as result of their service during the First World War.

[2]
UPDATE 19 August 2014 - Commemorative service held 11am, at the graveside, Waikumete Cemetery: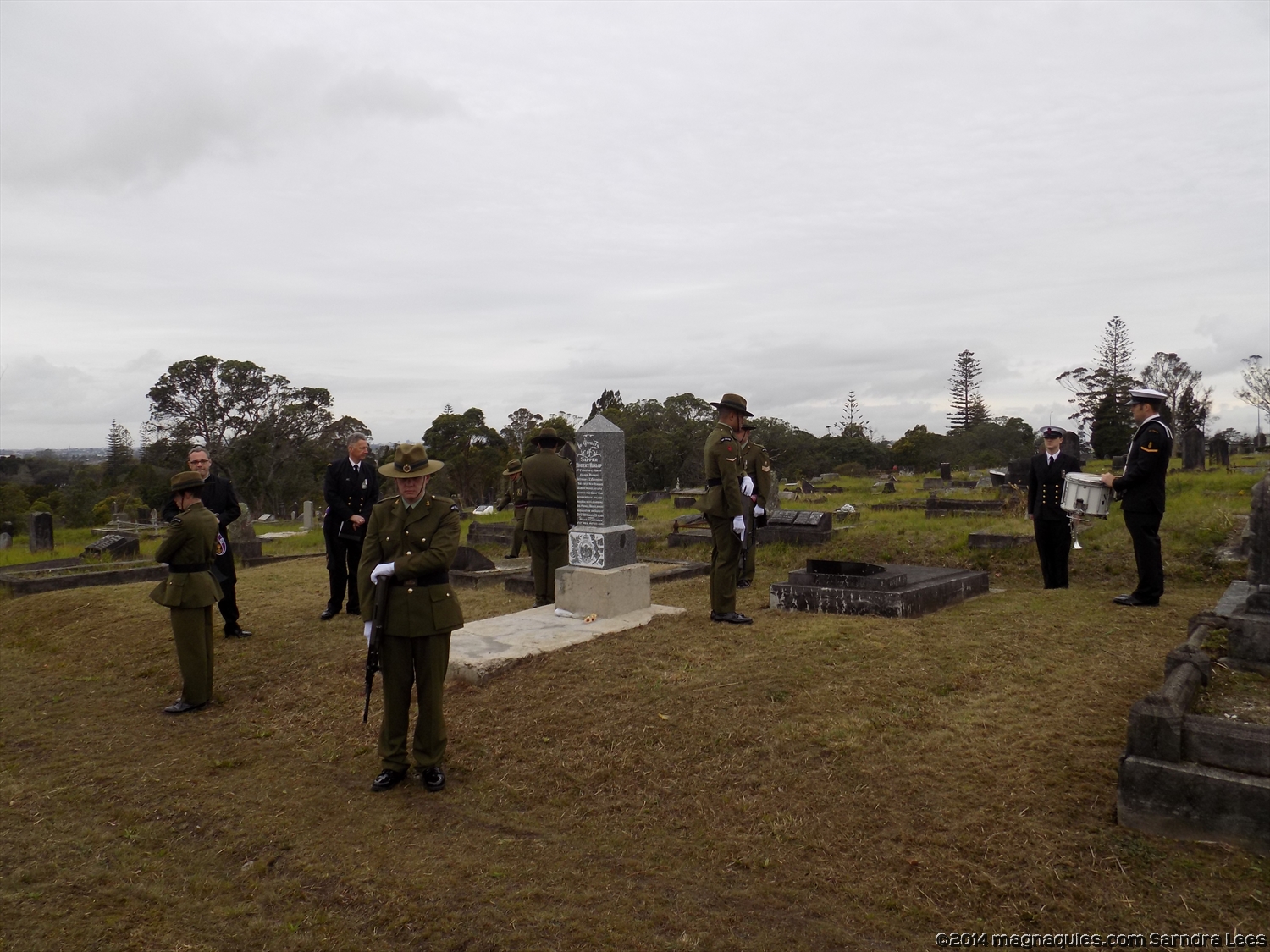 Catafalque guard composed of soldiers of the New Zealand Army Reserve based in Auckland. Territorial's - a nice touch, done specifically as Robert was part of the Territorial Force

[clicking photo will take through to a photograph set]
As I walked from the road towards Roberts grave my breath was taken away by the sight of the Catafalque guard standing at Robert's grave and who remained for the entire service.

The bitter wind blew but the rain stayed away and that was such a marvellous thing. The familiar notes of the Last Post played so perfectly and the moving words of The Ode so recognised but having so much more meaning to me now. Appropriately for this young junior railway porter, train horns sounded in the distance and so Robert has been remembered.

The honour afforded to him was so befitting. My heart really burst with pride that finally this poor lad was getting the recognition he deserved. Whether or not he remains the first casualty - someone else may be discovered just as I discovered Robert and his story on Anzac Day this year - the point is he is back within living memory and within the fold of his family. My job is done - the note on my bouquet of flowers stated it all. "The only truly dead are those who have been forgotten. His duty nobly done"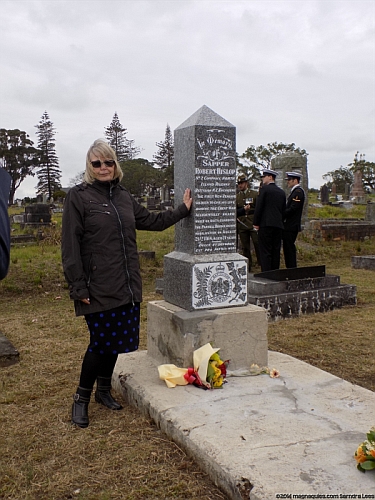 Robert's great niece Sue Atkins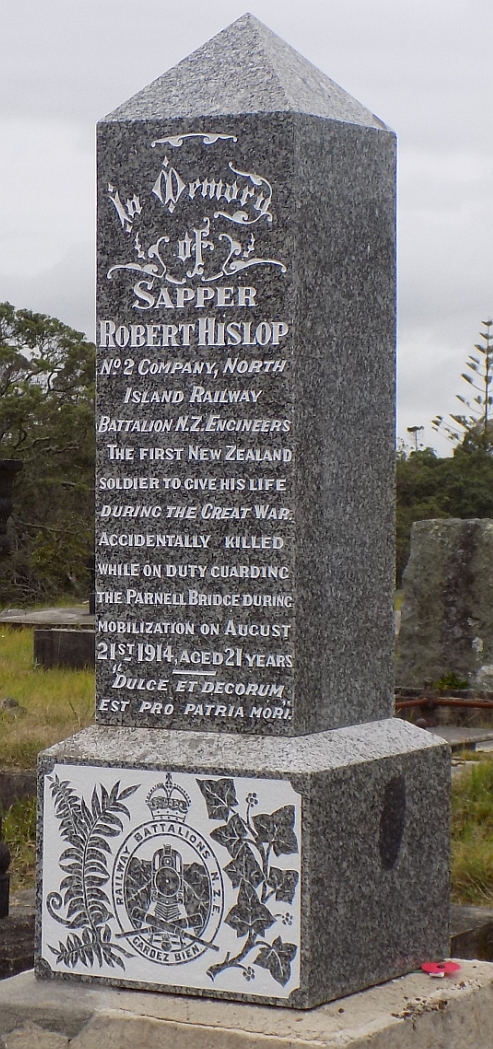 The date of 21st has been noted. He died on the 19th. Original headstone.
"It is sweet and fitting to die for your country"
Thank you also to the Glen Eden RSA for the lovely finger-food refreshments after the service. It was fantastic to be able to mingle in the warm with all who were there.
Thank you to everyone who pulled together to make this commemorative service and acknowledgement come to fruition at such short notice.
Following, is the Commemoration Service speech by Colonel Louisa O'Brien, ED, Senior Army Liaison Officer for Chief of Army; Representing New Zealand Defence Force
"On 19 August 1914, Sapper Robert Arthur Hislop, No.2 Company, North Island Railway Battalion of the New Zealand Engineers, died in the service of his country - now recognised as the first fatal casualty suffered by the New Zealand Armed Forces in the First World War. He was twenty-one years old.
Today we stand at his graveside to mark his inclusion in the Roll of Honour a century after he died and to recognise his death as the first of over 18,000 men and women who also fell during the four years of World War One. This tragic loss of life was felt in almost every community in New Zealand with one in ten men going to war and everyone in society affected by that in some way.
Sapper Hislop was a member of the New Zealand Territorial Force which was mobilised to guard key locations at the outbreak of the First World War.
On the evening of 13 August 1914, while on guard duty on the Parnell railway bridge, Sapper Hislop fell between the sleepers of the bridge onto the roadway below. He suffered serious injuries and died in Auckland District Hospital six days later. His funeral with full military honours was reported in the Auckland Star and it was noted that personnel of the Railway Engineers and New Zealand Expeditionary Force attended.
In his statement regarding Sapper Hislop and other servicemen recently included on the rolls of honour, the Chief of Defence Force, Lieutenant General Tim Keating, said that it is important that these soldiers are now formally recognised.
Over the next four years, we will remember the service and sacrifice of the over 100,000 men and women who served New Zealand at home or overseas during the First World War. Today is also the anniversary of Corporal Doug Grant in 2011 and of Lance Corporal Jacinda Baker, Private Richard Harris and Corporal Luke Tamatea in 2012, all killed in Afghanistan - a stark reminder of the sacrifice our servicemen and women continue to make in the service of New Zealand. Then, as today, we will remember, reflect upon and honour the service of all those New Zealanders.
This is the official description of Robert Hislop's life, but of course to the family he was a good looking young man of only 21 years of age, a junior railway porter who may or may not have had a girlfriend or fiancée, a man who may have wanted to have children or been an uncle. I can only presume that he was a keen young man - having joined up in the first few weeks of war being declared and never expecting that he would die from an accident, only weeks later. It is very fitting that today we recognise a man who was eager to serve New Zealand in some way, who was brave enough to not wait for others but made an early decision to do something. It is sad indeed that he did not get to fulfil his potential. He died in the course of duty, he was farewelled with full military honours.
His great niece Mrs Sue Atkins, Auckland War Museum collection manager Sarndra Lees, the NZDF researchers and the New Zealand Herald (the work of Mr Andrew Stone) have all contributed to the recognition of Robert - with the result that his grave will be cared for by the people of New Zealand through the Ministry for Culture and Heritage in perpetuity. It seems fitting that his grave is within sound of the railway track.
He has fully earned our respect, our recognition and our continuing care of his resting place. May he truly rest in peace."
Reproduced by kind permission of Colonel Louisa O'Brien
UPDATES
27 April 2021
How proud I am to finally see Robert's initials and name engraved on the walls of the WW1 Sanctuary at Auckland War Memorial Museum in time for Anzac Day 2021. It has been a journey from finding him until having this completed but it is right.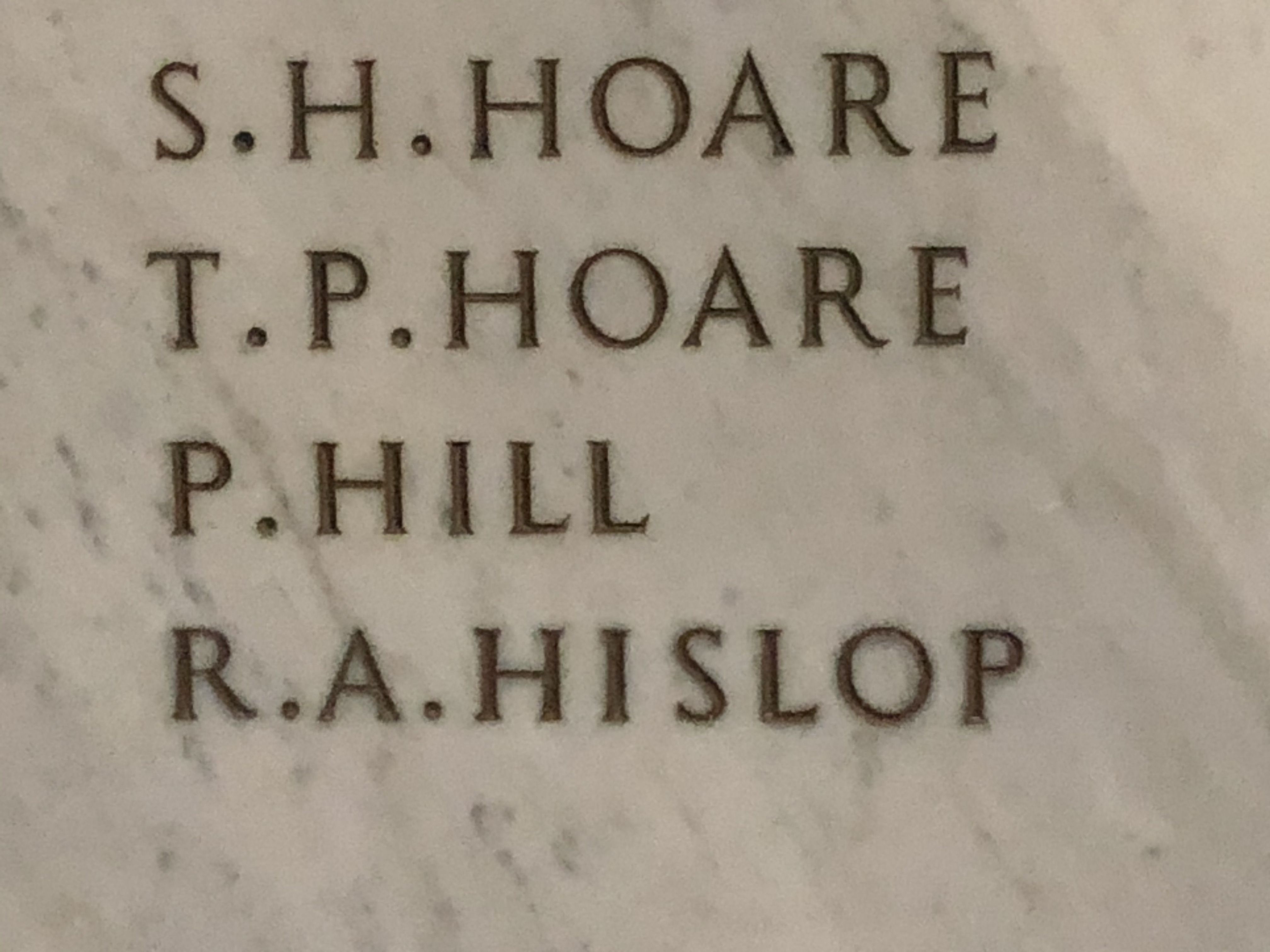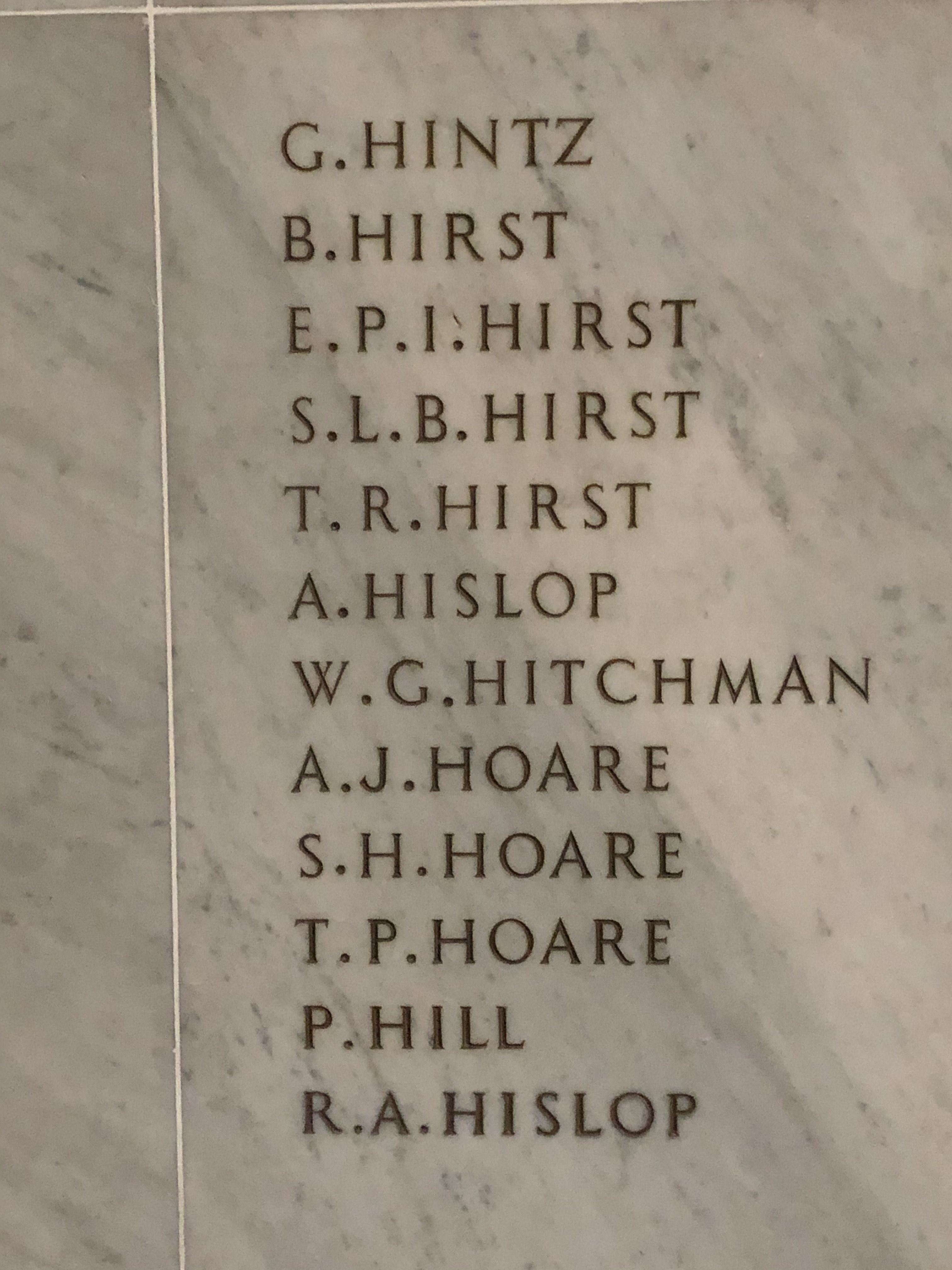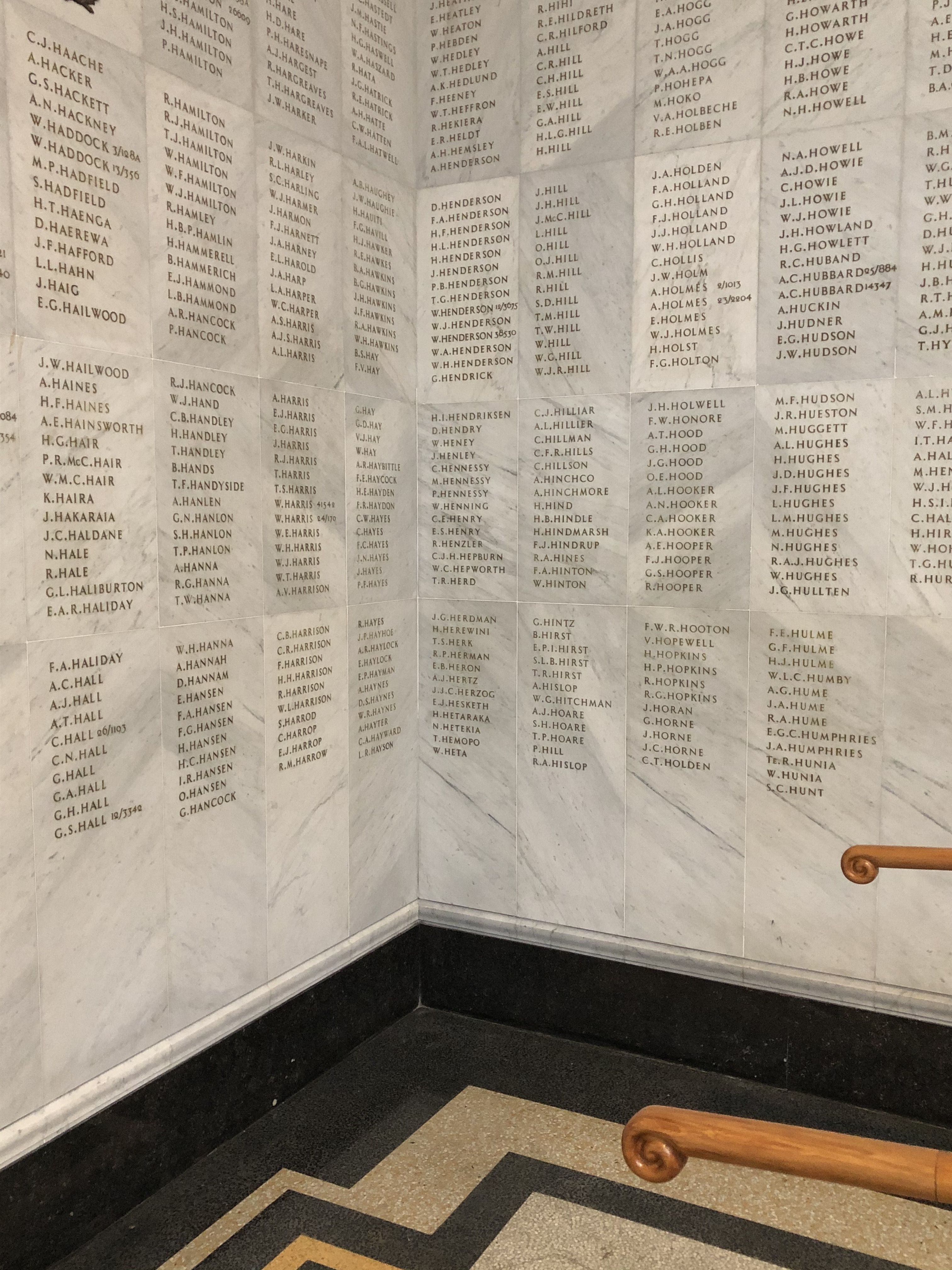 Topical to the new work on the walls - Auckland War Memorial Museum blogpost:

Standing Corrected: Additions and Corrections to the Museum's Memorial Halls
DECEMBER 2018

I sent Robert's white cross to his Great Niece Sue Atkins. The cross one of 18,277 laid out in front of Auckland War Memorial Museum by the Fields of Remembrance Trust to commemorate those New Zealander's that died in WW1.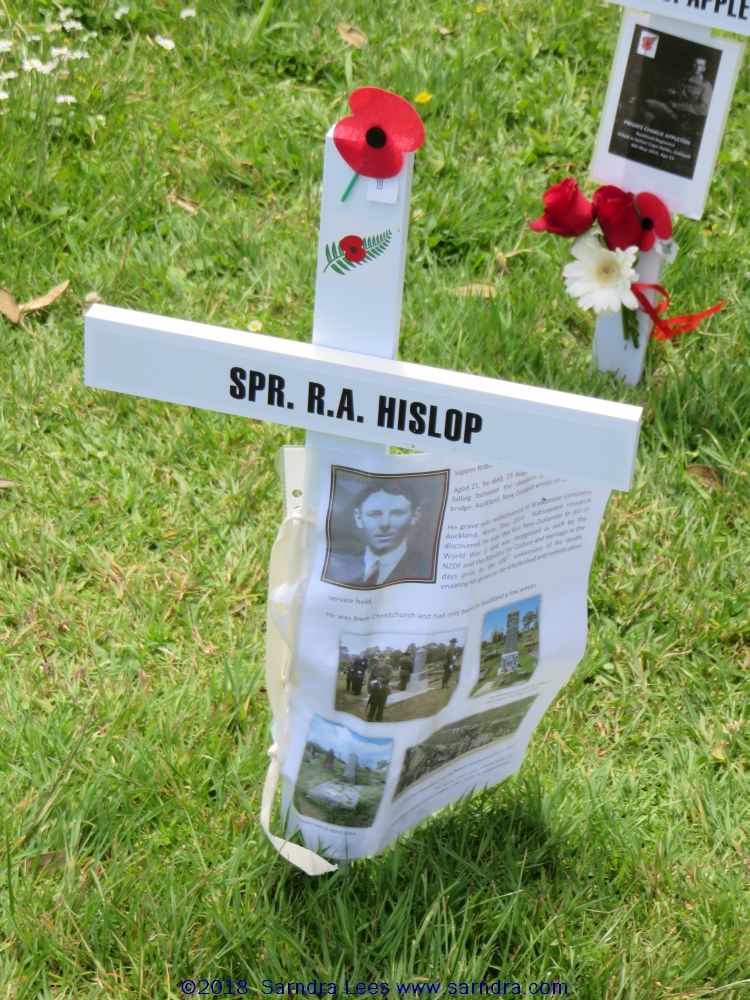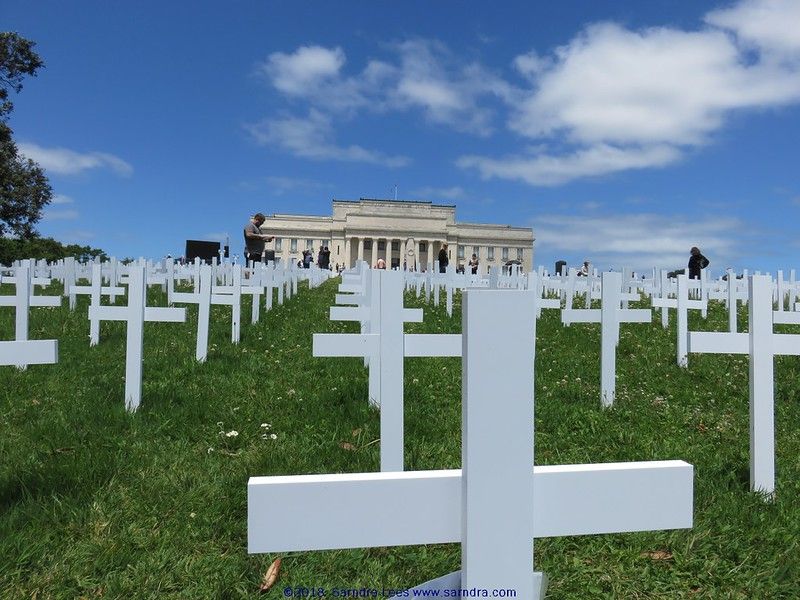 2 November 2014
Today we popped to Waikumete to check up on Robert's grave.
I was delighted to find that my bouquet of flowers hadn't blown far away and that the artificial poppy I had placed amongst the real flowers still look fabulous. The remainder of the wreath was still on the grave so I popped it on that.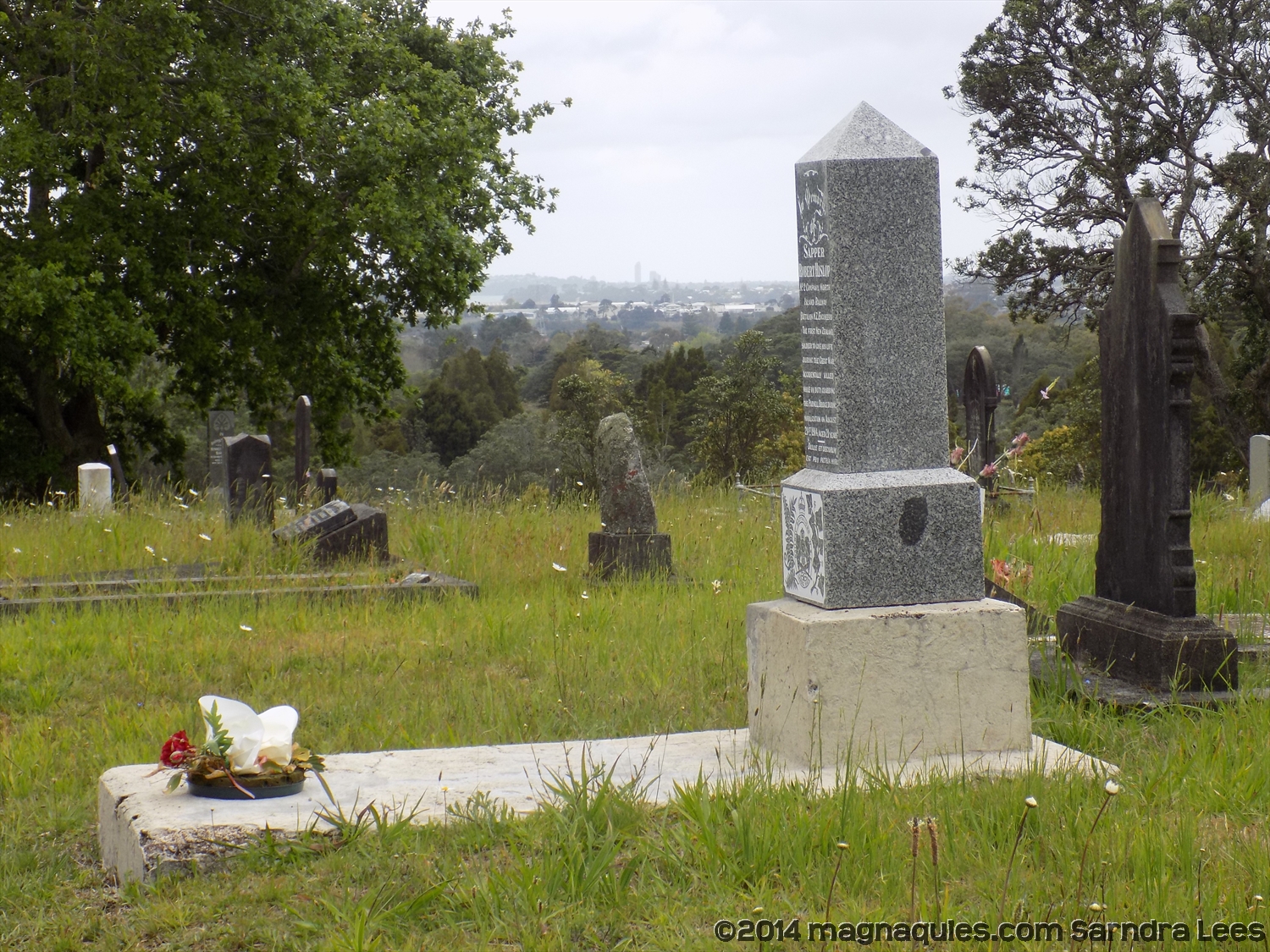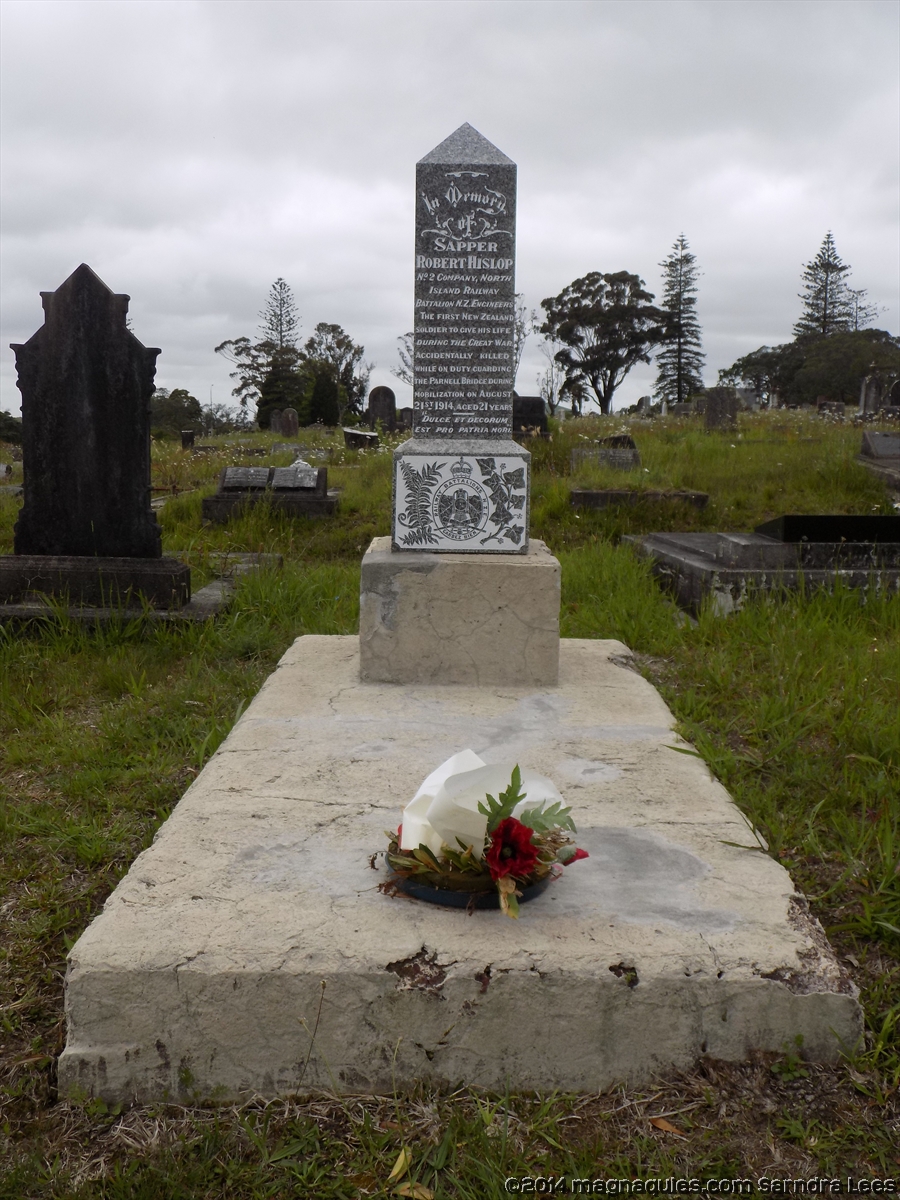 Sources:

[1]
http://paperspast.natlib.govt.nz/cgi-bin/paperspast?a=d&cl=search&d=AS19140820.2.72&srpos=558&e=-------10--551-byDA---2robert+hislop--
[2]
http://www.nzdf.mil.nz/news/media-releases/2014/20140813caitfwwroh.htm
Sapper Hislop's photograph courtesy of Sue Atkins
Copyright 2014-2022 ©MagnaQuies.com Sarndra Lees - All Rights Reserved