In 2012 I was given an old chocolate box full of photographs, ephemera and manuscripts previously owned by my Great Grandmother Lucy KENNEDY [1891-1961] and found in a wardrobe in her home after her death.
This is the fifth page of selected photographs.
HONOUR THY MOTHER AND FATHER...
Dipping into the chocolate box again tonight I stopped upon the photo below. It was reverse facing up and there is an attempt to have scrubbed the words out. Even though I'd briefly glanced over them before, I decided to look a bit more indepth now. It was sort of creepy.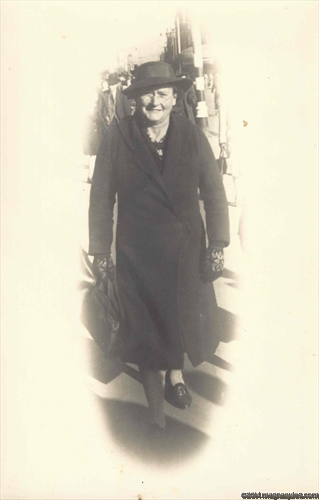 A street view of Lucy by Leicagraph Studios, Christchurch, New Zealand. Not quite sure of the year it was taken - she always looked older than her years. It is in excellent condition and no attempt to deface it.
The reverse appears to have been dampened although not so much so that the paper is wrinkled and the fountain ink words rubbed horizontally in an attempt to crudely blank out the words. In places, the rubbing has caused the paper to delaminate partially - tiny split layering is obvious.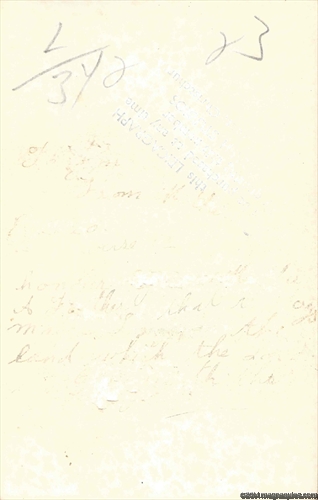 On the reverse and barely legible from the top left
"To... From Mother
Exodus 20
verse 12
honour thy mother and father, that thou mayst be longlived upon the land which the Lord thy God will give thee.
It creeps me out because I know my grandad [her son] and his brother didn't have an entirely happy childhood. She was a strict woman who did not suffer fools and who had a rather abysmal upbringing herself. Did she send this to her son/s whilst they were in the Bramwell Booth Boys Home in Temuka? Was it done in a way to instil fear in them or was it her way to remind them that she still existed - not being a mother that seemed to show much affection?
The interesting thing is the boys' father [my great grandfather] was committed into care* and this is the reason why the boys also had to attend the home in Temuka, but I guess you can't go fiddling with the quotes in the bible to omit individuals!
Born 17 August 1888 [Twin], Colombo Road, Christchurch [my G Grandfather]

He and his sister Lena to Christchurch Receiving Home November 1891.

He married Lucy Jane EVANS on 6 April 1911 at Brides home, Sewell St, Kaiapoi, Canterbury.

From 1918 until his death at Ngawhatu Hospital, Nelson on 22 October 1963 he was in and out of mental institutions, fathering children with Lucy when he was out on leave when the doctors considered him okay now and then.

He suffered from paraphrenia, a chronic mental illness developing often in middle life. Delusions of persecution develop and may be accompanied by grandiose ideas. The person afflicted may be able to talk quite rationally about neutral topics. He was also bi polar.

Cause of death, Myocardial degeneration [a condition in which there has been a deterioration of the heart muscle] and is buried in a paupers plot in Nelson, New Zealand. He and Lucy had 6 children, the last surviving child dying in June 2009.
Copyright 2014 © MagnaQuies.com All Rights Reserved
This site is under construction. For contact details see www.sarndra.com